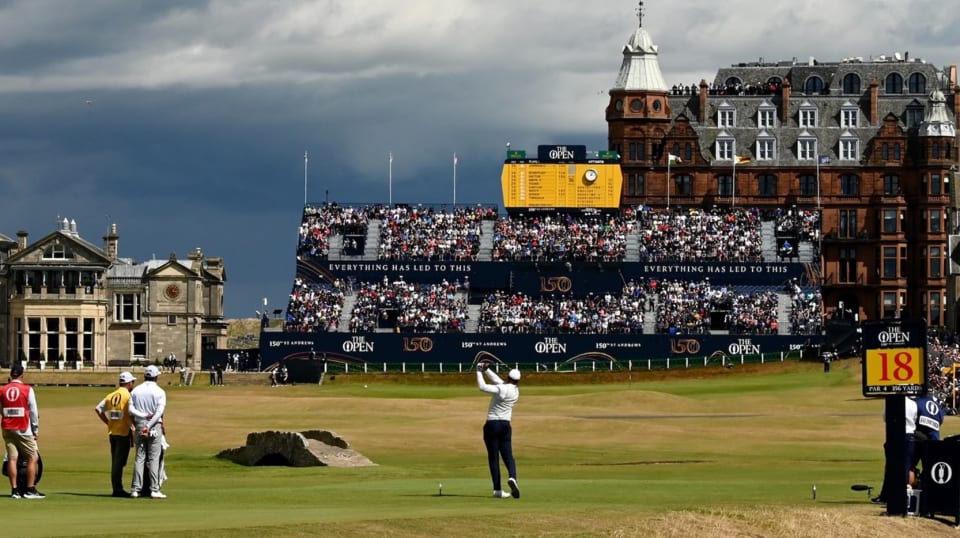 Emotional Tiger Woods tears up as he ends week at St. Andrews Open
ST. ANDREWS, Scotland — Tiger Woods rushed across the Swilcan Bridge as fast as his repaired legs could handle, taking off his hat and saluting the thousands in attendance at the Old Course who stood up as one.
There was no break. No moment of reflection. But as he descended from the cobbles, Rory McIlroy tipped his hat to Woods. That's when the moment hit Woods and the tears started to well up. This could be the last hurrah, at least at the Old Course, where he won two open championships.
"It's very moving for me. I've been coming here since 1995. I think the next one will be in 2030 so I don't know if I'll be physically able to play by then. For me, I felt like this could have been my last British Open here in St. Andrews," Woods said after shooting 75 for a total of 9 for 153 in two rounds.
The Old Course is Woods' unrivaled favorite. He said it several times. Even before dominating it in 2000 and 2005 for two of its three Claret Jugs. Its strategic principles, the way it compels players to chart their path, its demand for shooting, and its long history are all reasons why he loves it.
As Woods continued on the 18th, the crowd of fans found his voice and Justin Thomas and others on the first tee held up their rounds to show their appreciation. Memories of his first trip as an amateur in 1995, when Arnold Palmer said goodbye, flashed through his mind. Then he remembered the roars reserved for Jack Nicklaus years later, which Woods heard from several holes away.
"The fans, the standing ovation and the warmth, it was an incredible feeling. I understand what Jack and Arnold have been through in the past. I kind of felt like that at the end. … They understand what the golf and what it takes to be an Open champion," Woods added. "And I've been blessed and blessed to have won twice here. … I feel like I can play future British Opens, but I don't know if I can play long enough when it comes back here.
Woods drove just short of the 18th green and slid close, but his putt for a final birdie was ejected. Still, the intensity of the standing ovation and respect from his peers made Woods emotional. He looked down and put his hands over his eyes as the tears welled up.
"As I got closer to the green, … the ovation got louder and you could feel the heat and you could feel the people on both sides," he said. "I felt like the whole tournament was there and they all enjoyed what I had done here during the years I had played. …I felt like it just happened as I walked towards my golf ball.
Woods was adamant this week that he is not retiring and hopes to play at future Opens, but he has also only played three times this year and said he has no other events on its calendar. The amount of time and effort it takes him to compete will keep him from playing more tournaments.
After making the cut at the Masters in April, Woods replicated the feat at the PGA Championship in May. But he struggled in the third round and had to forfeit. He skipped the US Open just to make sure he could get to St. Andrews, which Woods says won't host another Open for eight years.
"I'm not retiring from the game," Woods added. "It's difficult to play the three tournaments I took part in this year. That in itself is something I'm very proud of. I was able to play all three of these events, given what happened.
As such, Woods said there are currently no events on his schedule.
"Maybe something next year," he said. "It's hard to walk and play 18 holes. People have no idea what I have to go through and the hours of body work, before and after, every day to do what I just did.
---
Here's a hole-by-hole breakdown of Woods' second round at the 150th Open, as the three-time Open champion (twice at St. Andrews) made sure to understand, feel and embrace the moment.