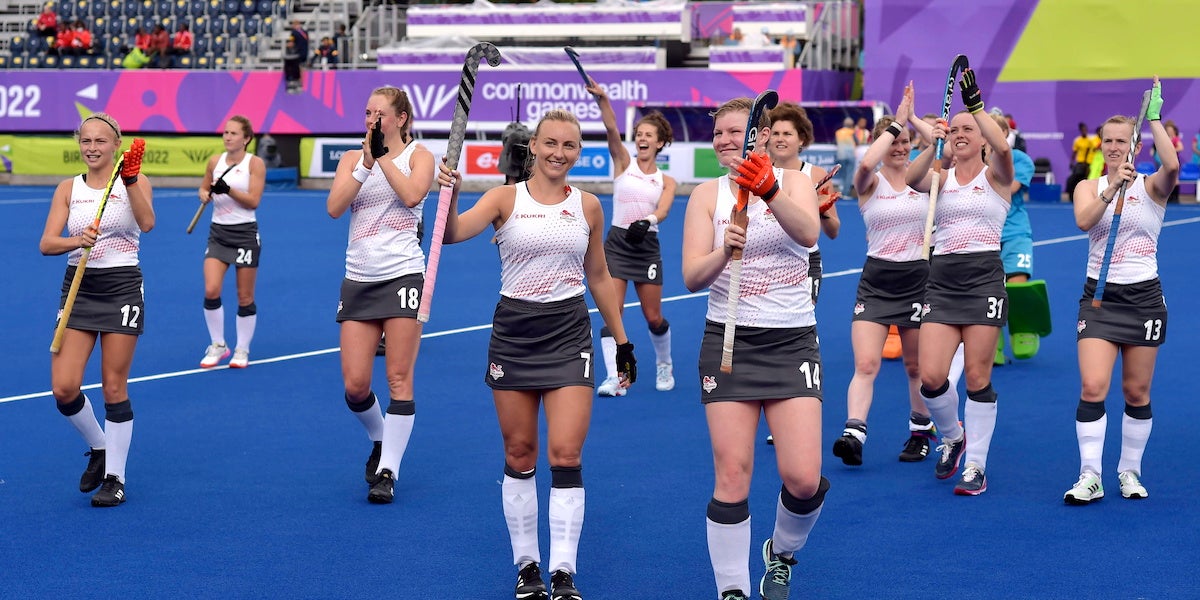 England women hit double figures against Ghana to top Pool B
England 12
Balsdon (10, 18, 46 GP); Martin (15, 33 PG, 49 FG); Ansley (27 PG); Hunting (28 FG); Howard (32 FG); Toman (48 PG); Unsworth (53FG)
Ghana 0
The Brits began their quest for a medal in style by beating Ghana 12-0 in Birmingham thanks to hat tricks from Grace Balsdon and Hannah Martin.
Balsdon started the scoring in the 10e minute and from there England had full control. She added a second after Martin's first and there were also goals for Giselle Ansley and Holly Hunt to give England a five-goal lead at the break.
Tess Howard ensured there would be no respite, scoring within two minutes of the second half and the goals kept coming as Balsdon and Martin completed their hat-tricks, while Lily Owsley, Anna Toman and Laura Unsworth also scored in a first full Commonwealth. Games release.
England: Heesh (GK); Ansley, Pearne-Webb (c), Toman, Crackles; Unsworth, Owsley, Peel; Martin, Rayer, Petter.
Subs: Hinch (GK), Hunt, Walker, Howard, Hamilton, McCallin, Balsdon.
Match report
England were the last team to play in Pool B and wanted to announce their arrival at the University of Birmingham straight away.
Izzy Petter hit the post with a backhand shot within three minutes and England's first corner of the game soon followed after some clever work on the flank from Hannah Martin.
After withstanding the initial onslaught, it looked like Ghana could grow in the competition, but those hopes were quickly dashed when Grace Balsdon scored from England's third free-kick of the game.
After being thwarted on their first two attempts, England widened the angle slightly and, with a flick to the left from the keeper, Balsdon put England ahead.
Five minutes later it was two. On this occasion, Anna Toman intervened at the edge of the circle for the penalty corner and her slap was returned by Martin.
Their third and Balsdon's second came from another penalty corner. Although he had to switch injectors, with Petter replacing Flora Peel, the routine was just as effective. Captain Hollie Pearne-Webb teamed up with Balsdon, and the Hampstead and Westminster defender kept her cool to make it three.
Ghana rallied briefly but struggled to escape their own half and a quick double strike on the eve of half-time effectively ended the game. Giselle Ansley guided her effort into the corner of the goal with a crisp forehand and just 45 seconds later Holly Hunt scored five with England's first basket, a shot from close range after an error from the Ghana keeper.
Another field goal provided the perfect start to the second half. Tess Howard was next to score, firing home on the back foot after spinning inside the circle. Martin then netted the seventh, guiding Toman's header home before Owsley scored the eight from another penalty corner to give England their fifth goal in 11 minutes.
There was more than a hint of fortune about this one, however, as the ball came out of a combination of the goalkeeper and post defender, leaving the midfielder with the simplest of finishes.
The final quarter of the game was England's most successful, adding four as Ghana's legs were tired. Balsdon was the first to complete her hat trick, with a faint drag across the goalkeeper from a short corner before the impressive Toman ricocheted off a defender.
Then, less than a minute later, Martin took advantage of the indecision at the back to rush towards goal and add his third with a powerful reverse shot.
There was time for one more and it was probably the group's choice. Laura Unsworth doesn't score many goals but it was a fine effort, undermining a bouncing ball into the top right corner to become England's eighth different goalscorer on the day.
Victory puts England top of Pool B after the first round of matches, and they return to action on Sunday when they face Canada, who beat Wales 4-0 on Friday.