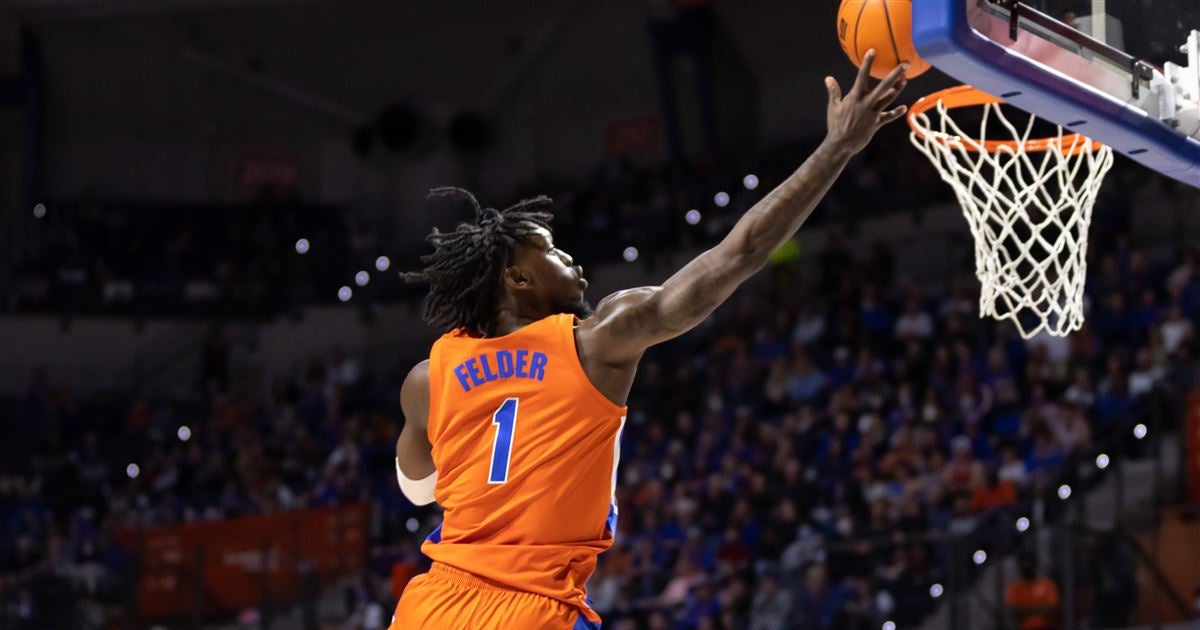 Gators run out of options for Saturday's game against Cowboys
The Florida Gators (12-8, 3-5 SEC) are going to be pretty shorthanded, to say the least, when they face the Oklahoma State Cowboys (10-9, 3-5 Big-12) in the SEC/Big-12 Challenge Saturday at 4. Florida has been missing All-SEC forward Colin Castleton for four games and is expected to miss again. Center Jason Jitoboh was Castleton's backup and went down on Wednesday and will miss the rest of the season after eye surgery. Forward CJ Felder's status is murky at best as he returns from a non-COVID illness. Head coach Mike White will have to be smart with the lineups in order to come away with a win.
Jitoboh's injury is a tragedy for the team but especially for the young man who was finally starting to play well and get on the pitch. He was asked to take an impossible position and replace Castleton who had an SEC Player of the Year. type season before the injury and Jitoboh who had limited minutes in his three years in Florida stepped up admirably and did what White and staff asked of him.
In a game where rebounds were really hard to come by, it was Jitoboh who crashed on the offensive boards when he put his finger in the eye and ended his season and left everyone worried about his health.
"These guys are sick for Jason right now, I mean sick for him," White said Friday of his team. "What this kid has overcome to put himself in a position to step in to replace the best big in our league and now he has a bit of a role. They are very close to Jason. And now that he's out, it's over for him this season. Who knows what it will look like for Colin. It was just very difficult.
The prognosis might be a bit better for Castleton than predicted just a week ago. The scuttling is that he could return soon, but playing on Saturday is highly unlikely.
"No more clarity. He may have had some clarity today, but he was sick today so he didn't come to the facility to practice," White said. progress. Duke (trainer Duke Werner) is doing a good job with him and Preston (Preston Greene, strength and conditioning coach) He's getting stronger so hopefully we'll hear back in the next few days on that at what it looks like overall.
White wouldn't totally rule out Castleton returning for Saturday, but that seems like a long time.
" I do not know that. I would say doubtful," he said when asked if Castleton was definitely out. "I haven't seen him today. There is nothing from our medical staff where they are in a position where we can play them at the moment. They might tell me something different tomorrow noon, but I doubt it.
Then there is Felder. The Boston College forward was starting to break out until about a week ago when he was sidelined with an illness which kept him out of a few games and saw him play just three minutes Wednesday against Tennessee and just couldn't push to help his team. Felder trained on Friday, but it was tough.
"Today he looked tired," White said of Felder. "He was happy to be there. He was energetic. He was locked in. I think the guys were also happy to see him compete with them. He needs to catch his breath and regain his strength after going through what he crossed in. He was very ill for a few days.
The Gators tasted to deal with so many big players being sidelined in the second half of the game against Tennessee and the result of it didn't go so well. It really changes the game plan without guys who can play with their backs to the basket in the paint.
"I don't think we'll post much," White said. "We changed it on the fly coming out in the second half, we did things that we hadn't practiced offensively out of necessity. We trained a bit better today and improved a bit. Of course, we have a long way to go. We need to drive it better. We have to generate faults leading to the rim. We have to be better on the attacking glass. We have to shoot better. The rotations sometimes hurt us. We have improved in this area. Now our ball safety and our decisions are going to be more important. We have to take a hit because obviously our offensive margin of error is very different now.
The importance of senior striker Anthony Duruji skyrockets at this point. It was clear in Wednesday's loss to Tennessee that if Duruji couldn't do much on the inside against perhaps the best defensive team in the nation, Florida wouldn't come out of Knoxville with a win. Things defused in the second half with turnovers from him and senior guard Tyree Appleby.
Duruji is going to have to flash on the edge and make it count against Okie State.
"Yeah, but we also have to choose our places," White said. "He had six turnovers the other night, I love him, he was great in other areas but he also let a few open looks slip and made it a little harder to drive in traffic. He had cross matches with guards guarding him sometimes. Let's simplify it a bit and shoot it, run over it instead of driving it.
"I mean we have to have it cut and cut and drive. (Felder) we have to get back into the mix of course, he was playing with some confidence before he got sick. He's nowhere near that now and (Tuongthach Gatkek) is a big work in progress offensively, but he'll play extremely hard and he'll pull through. These veteran guards, they now have the opportunity to really come into their own. It's going to be less about hitting the post… C-shots now in some scenarios are going to be A-shots because we're a little more one-dimensional now.
Current circumstances mean that this team will have to rely more on peripheral fire than it already was. This is a team that hasn't shot the ball well for most of the season, but was really locked in from the outside in the first half of Tennessee's game.
"We need to be more spaced out for sure," White said. "I think one of our next opponents knows that with Jason and Colin out, we're not going to beat him as much as we have been. There is no one on the list that we have posted a lot. We need to cut better. We have to be part of the elite to deal with it. We have to make decisions whether that means 30 three or 18 three depending on how you are protected. Whether or not we can get by with elite defenders, we're not a great driver team either, and we've probably overdone it at times in some of our big rotation games. As we are steadily advancing through the season and our three-point percentage is not as high as we hoped.
"We just have to be incredibly disciplined and play to our strengths. We have to take jumps. We must. We have to share it. Our live ball turnovers continue to haunt us, two or three per game. It killed us at Ole Miss early in the second half and also didn't bring us much of a positive early in the second half at Knoxville.
We'll see what happens when they switch to the Cowboys at 4 p.m. at the O'Dome and on ESPN2.