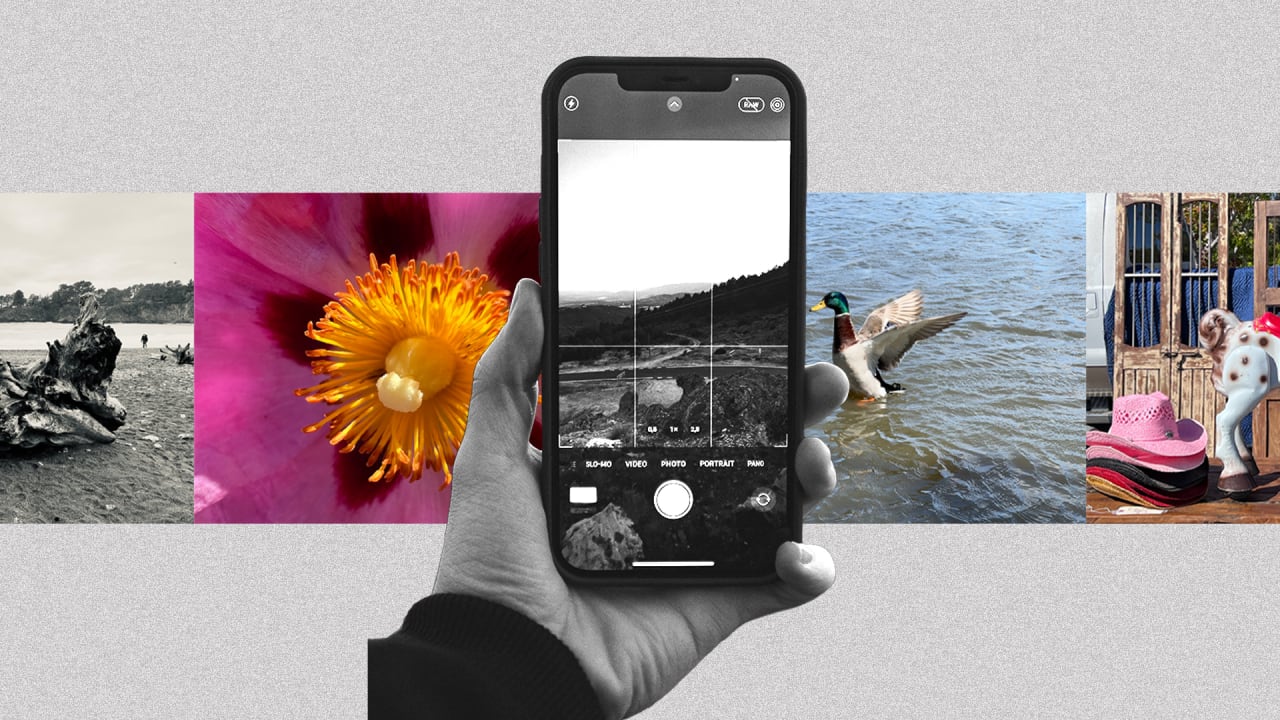 How the iPhone 13 Pro became my only digital camera
I've been taking pictures with cell phones since August 2003, when I splurged on a Nokia 3650one of the first camera phones sold in the United States. Since then, I've taken thousands of photos with a phone over the past few years, mostly with iPhones and the occasional Android.
But somehow, I never took phone photography very seriously. More often than not, I thought of it as a digital equivalent of using a disposable camera: something that was more about quick and dirty convenience than art. If I took pictures, I really concerned, I used a digital camera optimized for image capture and nothing else. Since 2019, this is my FujiFilm X-T30 mirrorless camera.
The arrival of the iPhone 13 last September gave me the opportunity to review my instincts. Much of the internet's instant reaction to Apple's new iPhones and their camera features declared them to be ho-hum-and underline that photos taken in decent light didn't necessarily look much different than those taken with previous iPhones. However, I was intrigued by the iPhone 13 Pro and 13 Pro Max photography upgrades. They included macro capability, a new 3X zoom, and improved sensors that let in more light.
In other words, the 13 Pro phones were designed to better shoot things near, far, or hampered by murky lighting – precisely the kind of limitations that would have me shooting with my X-T30 instead of my iPhone 11. For. (I shot all my videos on smartphones for years, so the iPhone 13 Pro Video Upgradesalthough welcome, did not herald any major change in my habits.)
When I bought an iPhone 13 Pro a few weeks after its release, I decided to go all out. Since then, I've taken a business trip overseas, traveled over the Thanksgiving holiday, gotten away on Christmas weekend, socialized (with care!) in the Bay Area, and taken photos for work. And I did all of this with my new iPhone as my only digital camera.
It's been over nine months since I took a picture with the X-T30. Attached are some of the things I learned, interspersed with images from my iPhone 13 Pro.
1. The basics of photography still matter the most
If your hand is shaking when taking a photo, the image will likely be blurry. Okay, this is one of the most obvious photography tips of all time, and it applies to every camera ever made. But when I was taking photos with a smartphone, I rarely stopped to remember because I wasn't in a serious photography mindset. Now that I am, I stabilize the phone more carefully, pay more attention to composition, and generally do all the little things that add up to better photos. They work!
2. It pays to dig into Apple's camera settings
When it comes to its own apps, Apple has a rep for being against customization. It also derives settings in the iPhone's Settings app, where it lists its apps in a truly mysterious order. (All I know is that there are two sections, and neither is alphabetical.)
I found more pleasure in imposing discipline on my photography, even if technology does not.
For these reasons, it's easy to forget that the Camera app has settings. But they do, and they give you a surprising degree of control over your shooting experience. You can ditch Apple's HEIC file format for the much more widely compatible JPEG, set the default portrait mode to 2X zoom rather than 3X, and even tell the Camera app to keep the settings up to what you tell him otherwise. and-white mode, for example.
The Settings app is also where you can select one of the "Photographic Styles", such as Rich, Vibrant or Warm. These presets remind me of the X-T30's ability to emulate a variety of FujiFilm film stocks.
Of course, if you're the type of person who likes advanced features, you could turn to a powerful third-party iPhone camera app, such as halide Where ProCamera. I'm glad they exist, but I haven't quite bonded with any of them. For one thing, Apple doesn't let you set a default third-party camera app, so it's hard to completely avoid its own app. On the other hand, while many camera apps beat Apple's in terms of features and manual options, I haven't found any whose interface I like as much as Apple's.
3. You should take (or at least keep) fewer photos
For anyone who grew up shooting rolls of 36mm 36-frame film and paying to have them processed, the essentially limitless photo capability of a smartphone is incredibly liberating. Or at least he used to feel that way. These days, the fact that I have 93,970 photos in iCloud feels like a burden; gems outnumber hits which aren't exceptional or just plain shabby. And there are many instances where I have 47 slight variations of the same scene, because, well, there's no reason not to keep pressing the shutter button.
But lately, I've found more enjoyment in imposing discipline on my photography, even if technology doesn't. If I'm documenting a dim sum outing with friends, I'd rather have a dozen beautiful photos than 300 that fully document the meal. So I take fewer photos and then try to remember to go back and delete any that I don't like.
4. Taking lots of photos drains the battery
One of Apple's most welcome updates to current iPhones is their improved autonomy. When you shoot in moderation, you're unlikely to run out of juice. But on the days I shot with abandon, my 13 Pro's battery got sluggish and on a few occasions it got dangerously close to the zero bar. Unlike a conventional camera, the iPhone and all of its most direct rivals don't let you swap in a new battery; the best you can do is pack an external battery. (I bought one from Anker with built-in iPhone MagSafe wireless charging support.)
5. Camera phones still have usability issues
Whether "the best camera is the one you have with you", it's hard to beat smartphones: thanks to their portability and versatility, we do have them with us, almost always. But even though photography is among a phone's most important functions, phones still don't feel like they were designed to be cameras first and foremost. (There have been occasional exceptions.)
Pressing the shutter button on an iPhone's screen can jostle the phone and blur the photo you're taking, and while you can use the physical volume up button instead, it's not particularly well positioned for this purpose. I also miss the grip of my FujiFilm when I'm holding my iPhone. And because the iPhone's camera bump is located on the edge of the phone, I always take the occasional shot with my fingertip visible in the photo.
All in all, it's easy to see why several companies have come up with mechanical shutter button cases for iphoneturning the phone into something a bit more like a regular camera.
6. I miss my "real" camera less than expected
Smartphone cameras have not achieved absolute parity with conventional cameras. My FujiFilm X-T30 packs a lot more megapixels than an iPhone, which comes in handy when I want to crop an image without ending up with something that looks too blurry. It accepts interchangeable lenses, such as zoom lenses, which go well beyond the 3X range of the iPhone 13 Pro. If I carry around a camera bag full of lenses and futz with manual settings, I can still get results my iPhone can't match.
And because the iPhone relies as much on advanced computing as it does sophisticated optics to render images, there are times when the photos I get seem a little overworked. I'm afraid future phone photos will look even more synthetic, and I hope Apple and other smartphone makers don't smother their future camera phones in AI excess.
Bottom line: I'm not saying the fact that I haven't used my X-T30 in months means the iPhone 13 Pro has made it obsolete. Even so, I never felt great regret for leaving him at home. Between the iPhone's capabilities and my thoughtful new approach to how I take pictures with it, I had all the camera I needed.
Will I ever take my FujiFilm back? Almost certainly – hey, I always take Polaroids. There is a certain pleasure in using a device that does one thing well; and smartphones, by their very definition, are not that kind of device.
Still, I came away from that experience with a new favorite camera. The fact that it's also a phone, game console, e-book reader, voice recorder and more is just a bonus.