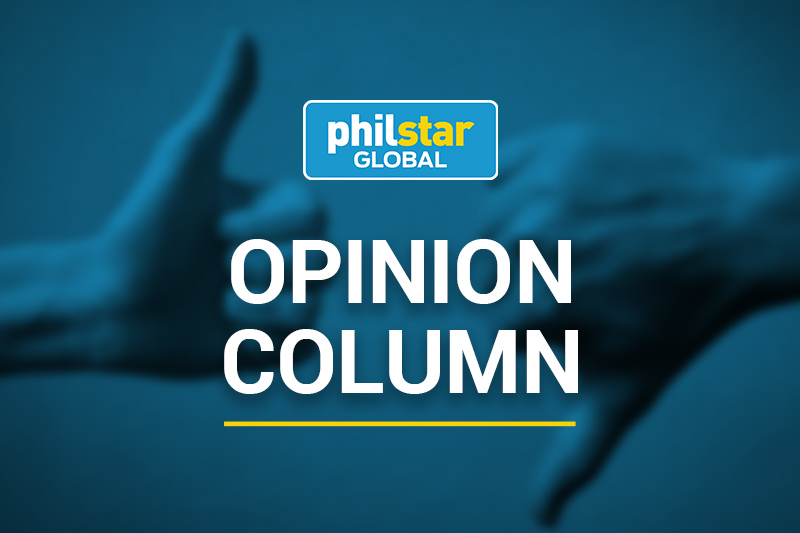 Jose Mari Chan Day! | Philstar.com
September 2, 2022 | 00:00
Yes, you read that right. I formally propose that Congress pass legislation to declare September 1 in the Philippines "Jose Mari Chan Day" and the official start of the longest Christmas season in the world. There is no denying that Jose Mari Chan is a living legend of Filipino music, a huge commercial success, the country's go-to Christmas song playlist, and the country's Christmas ambassador. Even foreigners who originally didn't understand it and resisted the idea turned in or joined Filipinos in welcoming Christmas in September. Some have even made a tradition of posting iconic half-face teasers and memes of Jose Mari Chan asking if he can come out now.
I see no value, especially for the recipient, in being honored with honors and recognition posthumously, unless you can send it via seance or through a medium. Shoot all the nerd elitist naysayers and snobs who impose their versions and ideas of what or who should get national recognition in music or the arts. The fact that a person has spanned many decades, created so many works that have been widely accepted, appreciated, even elicited strong reactions means that their work triggers a reaction.
As far as I am concerned, "If they cause joy", as Mari Komo said, then let us love them back with gratitude. Of course, it would take a huge stretch of the imagination for any Filipino to dislike Jose Mari Chan or the world's longest Christmas season. These are two very unique things we have, so let's celebrate them!
* * *
We recently addressed the issue of middle to lower middle class villages and Homeowners Associations (HOAs) placing barriers, gates and guards at entrances to their villages while others charge P10 to P20 for admission fees. This scenario has been around for a long time and from time to time they are challenged or rejected by state or local government officials after people start complaining or because there is a proposed infrastructure project that requires removal or relocation. doors.
We have tried to invite several local and national officials to join the AGENDA program on Cignal TV to help us understand the advantages and disadvantages of such barriers and what instruments or solutions are available in order to find a solution or a compromise. Interestingly, even in the LGUs where they effectively ended the entry fee, we were unable to get anyone to join us in the program. They couldn't even send a spokesperson or representative. When we asked housing officials, we also couldn't ask anyone to explain how they arrived at their decision to ban gates and entry fees. The only "brave soul" or useful resource person was Atty. Ariel Inton, the former traffic czar of Quezon City and also a former city councilman.
Atti. Inton did his best to explain the details and legalities regarding private properties and public lands or streets, but his short version of what determines the outcome was simply the issuance of a "municipal or municipal ordinance" that authorizes or prohibits the use of security gates, gates and the exclusivity of a residential area. This is very telling because after decades of repetitive disputes, front door violence, we now learn that the LGUs and their Legislative Council could have prevented all the mess or the shooting of people simply by offering an ordinance. Ultimately, politicians and government officials don't want to step on people's toes or implement inclusive policies that challenge the sense of entitlement and the exclusive elitist way of life of the rich and powerful. The problem is that now even non-exclusive landlords believe they too have the right to put up barriers on every corner, either to feel safe, exclusive, or to keep criminals out.
This mindset and approach to problem solving shows us that there are several problems that are being solved the wrong way: First, people believe that crime is still present in their neighborhood because of strangers and non -residents passing through. Maybe. People have taken action because there is no police presence on the streets and in the community. Yes. The answers to their problem are barriers and private security. WHY? The national and local government owes us the taxpayers to hire more police, to hire and pay decent wages to barangay tanods, to use video cameras for security and not as lucrative scams to the NCAP.
Members of Congress should investigate and audit the budgets and spending priorities of LGUs and the national government to find out how much goes directly to protecting the landowners and taxpayer residents of each barangay. HOW MUCH is invested in homeowner safety and peace of mind? It should be a law!
We shouldn't pay extra for gates on every street corner, we shouldn't set up street associations in non-exclusive barangays, or hire ex-house boys to work as pseudo-security guards of street. Every barangay captain, councilor and district representative in Congress owes us. We have already given to BIR – now give us our money's worth.
* * *
Big juicy onions always make me cry. But now you can only get tiny prematurely harvested red onions, BUT they still make you cry because of the scarcity and the price. Then I found out that 93% of all commercial salt in the country is imported, according to a DA official, and that many consumers are being told in supermarkets that they can only buy a kilo of sugar at that time. My mom and wife obviously knew something because they usually brought home unused sugar packets when they went to restaurants and cafes. In the meantime, friends tell me to get back into poultry farming because every time they buy a whole chicken, they only get an oversized pigeon.
* * *
E-mail: [email protected]