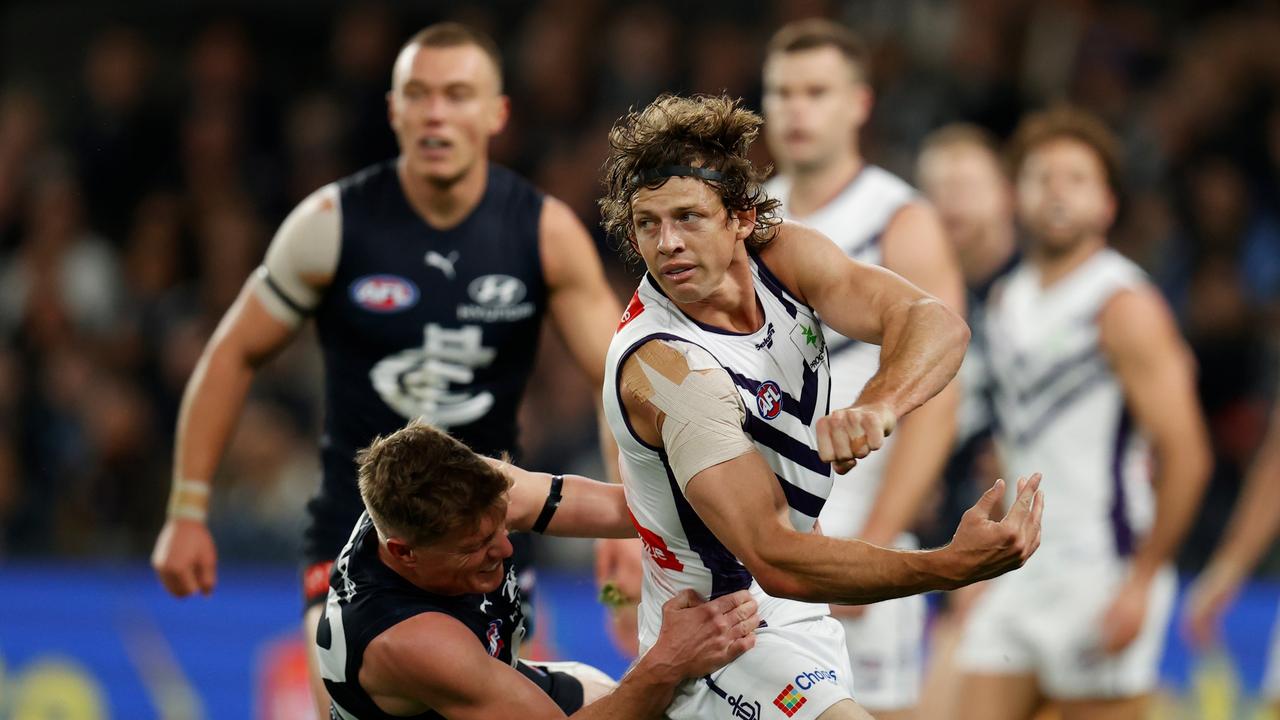 Scores, updates, stats, video, blog, news, how to watch
Carlton will finish the round tied on points with second place after beating Fremantle at Marvel Stadium on Saturday.
The Blues were challenged early on but dominated for the final three quarters despite periods of frantic ball movement from both sides.
Carlton next face St Kilda in a Friday night blockbuster, while Fremantle host Port Adelaide in round 16.
Watch every AFL blockbuster game this weekend live and ad-free on Kayo. New to Kayo? Try free for 14 days >
QUARTERLY DISTRICT SUMMARY
While there were initially no late changes on either side, Matt Owies was seen chatting with medics during the warm-up and was pulled late with a calf problem.
Jesse Motlop has therefore entered the starting 22, with Will Setterfield the medical replacement along with Mitch Crowden for Fremantle.
It was something of a stalemate to start the game, with neither team able to disturb the scorers before six minutes into the game.
That stalemate was broken by Matt Taberner, who took a mark near goalsquare and really scored the first goal of the afternoon.
A costly Carlton turnover near midfield opened the door for a Fremantle counter-attack, which ended in a goal for Travis Colyer, making it two out of five inside the 50s for Dockers.
Carlton started getting more opportunities from his 50s, but most were from difficult angles and resulted in three backs.
Conversely, Fremantle's 50 starts in the 50 starts were more efficient and led to a higher percentage of looks on goal, with Rory Lobb scoring 30 yards from a marginal angle and netting Fremantle's third goal of the quarter.
Carlton eventually netted their first goal through Harry McKay before the quarter-time siren followed shortly after, with Fremantle holding a nine-point lead.
For the second quarter in a row, a scoring stalemate unfolded in the opening minutes, with the first goal coming with just under 13 minutes to go, that one to Matt Cottrell to make it a three-point game.
Charlie Curnow received a free-kick for frontal contact and converted the set-piece, before Jack Newnes netted his own and was overrun in his 200th game.
After dominating so many key performance indicators for much of the game, Carlton finally started to convert opportunities, with Lochie O'Brien the next to add to the stack at the end of the second term, increasing the squad. of 15 points.
Fremantle got a much-needed response via Matt Taberner, who took a contested mark on the boundary line and really broke.
Frantic passages of play unfolded in the final minutes, with both teams moving up the pitch and attacking, before the half-time siren finally sounded with Carlton holding a 15-point lead.
He was dubbed "magnificent madness" by Gerard Whateley on AFL Nation.
Carlton scored the opening goal of the third quarter through Cottrell, but Fremantle looked to have improved considerably around the contest and were ready to play down the hall more often.
This increased pressure and attack saw the Dockers score the next two goals, via Lachie Schultz and Bailey Banfield.
They had chances in more majors – including one where Nat Fyfe appeared to mistake a referee for a teammate – but Carlton's desperate defense helped minimize the damage.
Jack Silvagni scored a goal to stabilize things for the Blues before three quarters of time.
Some push and shoves between Fyfe and Carlton players included a moment when Fyfe put his hand on a referee's chest.
Carlton never really seemed to concede the game from there, easily holding off Fremantle in a much less spirited last term than the front three.
THE 3-2-1…
3. BLUES TOP FOUR PROSPECTS RECEIVE HUGE RAISE
The Blues continue to do just about everything they can to stay in the top four, including beating a top four like they did against Fremantle today.
In terms of draw difficulty, the Blues had the seventh most difficult heading into Saturday.
The key for them is that they will start bringing in key personnel as this home run unfolds, including Jacob Weitering and Marc Pittonet.
Victory against Fremantle puts Carlton level on points with second place, with their next four games St Kilda, West Coast (in Perth), Geelong at the MCG and GWS Giants at Marvel.
It's been a fascinating set of tests, but you have to think Carlton is more than up to the task considering what the team has shown so far.
"We were really happy with the way we were playing," Jack Newnes said after the game.
"It was just a matter of getting the game they wanted to play," Fox Footy's Jonathan Brown said.
"It's very open (the final race)…they can be in the top four.
"There's a lot to love about them and the way they play."
2.BLUES CONTEST BACK AS DOCKERS ARE OUT
Carlton's contest game had slowed over the past two weeks, while Fremantle's had soared.
The Dockers finished the Round 13 win over Hawthorn +27 from the center rebound score and looked like an average combo.
Conversely, Carlton had been the No. 1 team in the competition for center rebound score differential, but had fallen from +3.5 to -4.5 in the past two games.
After conceding 76 in 50 seconds against Richmond last week, the Heat was well and truly on them to respond to the coal face, something Michael Voss indicated before the game.
"We have to take a bit of a drive from there. The reality is when we last played them… their efforts around the contest just gave them a lot better motivation," he told Fox Footy.
"The ball was living in our half-back and no team can survive it. You might be able to get away with it once, but not against very good teams.
"Our mids give us territory on the pitch and then that gives our forwards the chance to hopefully get to work and score points."
They did respond on Saturday.
They outshot clearances 44-30, center clearances 14-5 and stoppage clearances 30-25.
It was a much more identifiable Carlton team with their off-stop and 'leg-driving' handballs and a brilliant way to get back into shape.
1. THE CURRENT SHOW
Not only was Charlie Curnow's goalscoring prowess on display, but so was the swagger.
Curnow was held down well early on, but as the Blues got going, so did Charlie, with the 25-year-old flourishing in the second and third quarters as his team took charge.
Coupled with Curnow's goals was aggression towards his opponents and playing with the Blues' parochial faithful.
"So great to see him have a clear run. He's been so injury-plagued throughout his career so far," he said.
"He doesn't need to be so involved to have such a big impact. He launched this shot, he gave it to the Freo opposition.
If you don't see the blog, tap here.