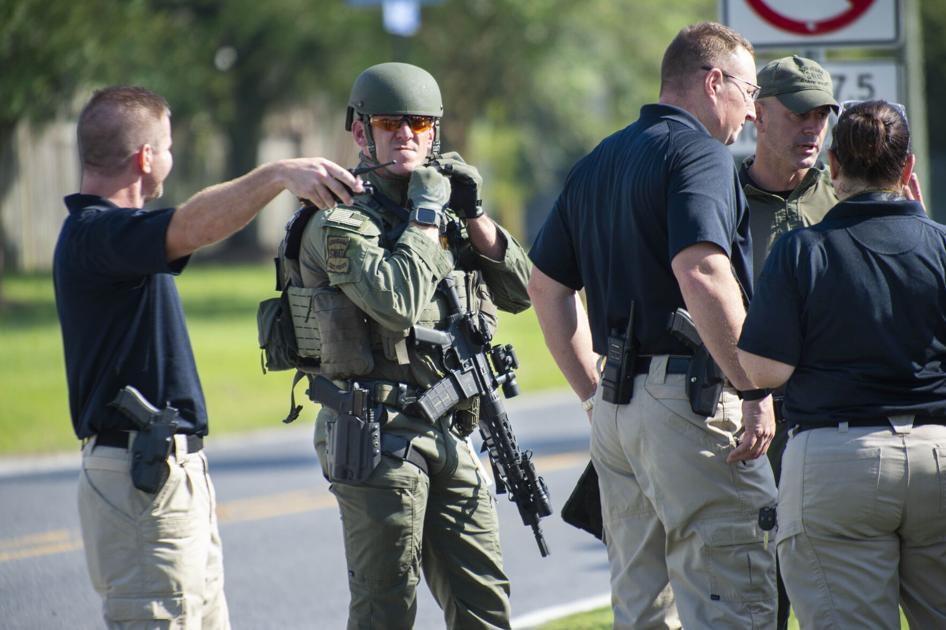 The man who shot a soldier is a "person of interest" in the Ascension homicide, the Livingston shooting; research continues | Crime / Police
After hours of searching for a man who exchanged gunfire with a state soldier early Saturday in East Baton Rouge, authorities linked him to two double shots overnight.
Authorities believe he traveled the area in a stolen vehicle and shot four people, killing a family member in Ascension Parish. The other three victims survived their injuries, although one remains in critical condition, officials said.
Meanwhile, the vast manhunt continues for Matthew Mire, 31, who officials describe as "armed and dangerous" and a "person of interest" in the nightly shootings.
State Police said soldiers attempted to arrest him around 5 a.m. in La. 42, near the Oak Grove Community Center in Prairieville. But instead of stopping, he opened fire and led the police in a high-speed chase in a stolen blue Chevrolet Silverado, advancing a few miles north on Jefferson Highway and through the parish of East Baton Rouge. Mire turned onto Hoo Shoo Too Road, then abandoned the truck near the intersection with Tiger Bend Road.
From there, he fled on foot into a wooded area.
Authorities say the first of two Mires-related shootings occurred around midnight in the parish of Livingston. A man and a woman were injured but are expected to survive.
The second shooting took place in Prairieville and involved relatives of Mire – her half-sister Pamela Adair, 37, who died of her injuries, and her other relative Joseph Schexnayder, 42, who was hospitalized in a In critical condition and undergoing surgery, Ascension Parish Sheriff Bobby. said Webre.
Webre said officials are sure Mire is the same person who shot the soldiers. But he stopped before calling him a suspect.
"We just don't have an eyewitness that this is the guy," Webre said. "But there's a high level of trust and a high level of likelihood that it's the same guy.… We have to get this guy back and we have to either take him into custody, talk to this guy and bring this to the end. . "
Authorities said they were confident enough to release her identity and photo. They said Mire is dressed in camouflage and is hiding in a wooded area off Hoo Shoo Too Road.
Several law enforcement agencies are involved in manhunts, including helicopters and search dogs.
Officials have warned that there may be other people in the woods wearing camouflage clothing as it is hunting season. If anyone sees a man who fits the description, Webre said, he shouldn't approach him. Instead, they should call 911 and notify the authorities.
No homes in the area have yet been evacuated, officials said.
"We know he's armed and dangerous. He's already killed one person and tried to kill another," Webre said.
In a press release late Saturday morning, Livingston Parish officials released more details of the shooting around midnight – the first linked to Mire. MPs said the two victims are expected to survive after being shot and wounded. The victims said they "heard a noise outside their home," according to the press release. "They then saw someone barge in through their front door and fire shots."
"We don't think this was a random shootout," Livingston Parish Sheriff Jason Ard said. "It is believed that Mire knew the victims."
This incident was reported on La. 444 in French Settlement. Authorities believe Mire stole a blue Silverado somewhere nearby and fled the scene after the shooting.
Tasha Ryan, who arrived at the scene of the East Baton Rouge search late Saturday morning, said the stolen truck belonged to her son, who lives in French Settlement. He was not a victim of the shooting, but called her around 7 a.m. to tell her her truck was gone, Ryan said.
She said her son needed medicine from inside the vehicle, which Mire left behind at the intersection of Tiger Bend and Hoo Shoo Too Roads before walking away.
In the hours between the theft of the truck and the confrontation with state soldiers, authorities believe Mire traveled to Prairieville and killed his half-sister.
Although his full criminal history remains unknown, court records show Mire was arrested in 2017 after his grandfather called 911 and said Mire attacked him. MPs responded to a house near Joor Road in East Baton Rouge and spoke to the grandfather, who said Mire "pushed him in the chest and hit him several times on the body" after asking to his grandson to "clean up after himself".
When the victim called the police, Mire "said he was going to shoot himself", according to his arrest report. He admitted hitting his grandfather for "not speaking to him properly and consistently disrespecting him". Mire also said he was upset when he threatened to kill himself and said it just to hurt his grandfather, according to the report.
After his arrest for domestic violence, Mire pleaded guilty to a simple battery of cripples and was sentenced to probation. He was ordered to take anger management classes, community service and a mental health assessment, according to records. The court overturned his conviction once he fulfilled these conditions.
Mire also has a DWI conviction from Livingston Parish several years ago, officials said.
He was on the run on Saturday afternoon, several hours after the shooting as various law enforcement agencies scoured the area. Officers were stationed along Hoo Shoo Too Road, an expanse of mostly fields and woods interspersed with a few houses. Officers armed with long guns were stationed at a house near where the truck was abandoned.
State Police spokesperson Private First Class Taylor Scrantz said the officer who exchanged gunfire was being assessed at a local hospital but appeared to be in stable condition .
LSP announced the gunfire and the manhunt in a press release on Saturday morning. He said soldiers attempted to stop a blue Chevrolet Silverado shortly after 5 a.m. on La. 42.
"The driver refused to stop and shot the soldier," Scrantz said. "The soldier fired back and the chase continued."
The shooter descended the Jefferson Highway to Hoo Shoo Too Road, where the two again exchanged gunfire, Scrantz said.
The suspect then fled to the Tiger Bend Bridge.
"We believe the suspect is in the area and is considered armed and dangerous," Scrantz said. "As the investigation develops, the circumstances of the incident and additional suspicious information will be immediately disclosed for public safety."