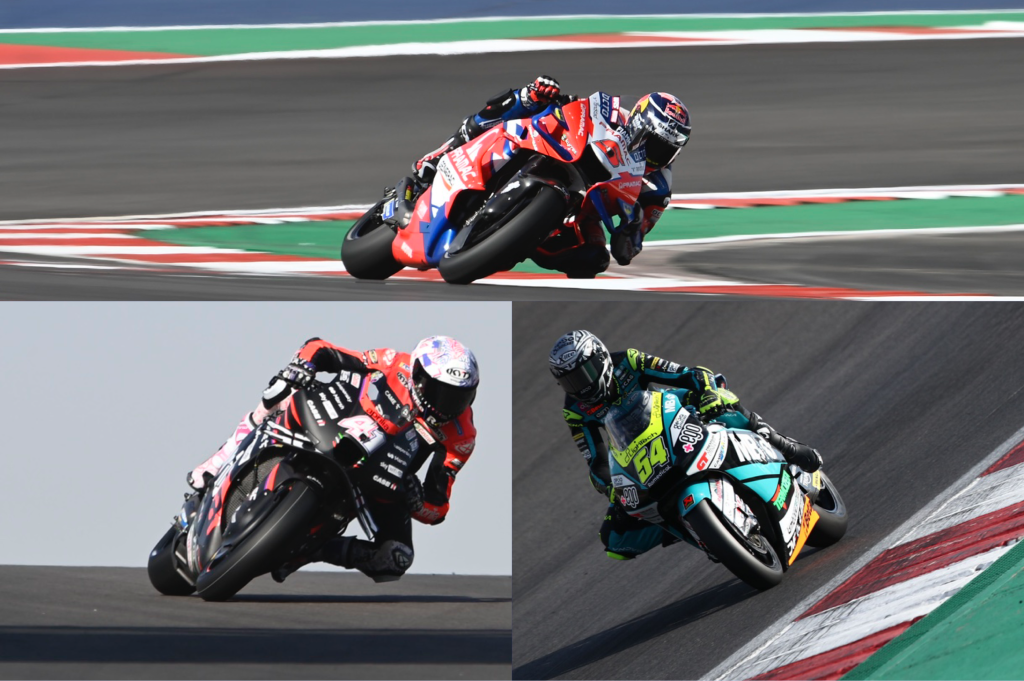 Three new curveballs from the 2023 MotoGP riders market
As Honda's Pol Espargaro correctly observed at the Circuit of the Americas weekend, this year's silly MotoGP season looks a bit "smoother" than usual – with those who should have faced renewals no doubt on the whole already committed to new offerings and those at any crossroads seem content to bide their time for now.
Still, the final leg of the fly-out to 2022 in Austin apparently got the ball rolling as far as the pilot market is concerned – and although Fabio Quartararo's camp admission that the defending champion spoke to more than Yamaha was the key soundbite, there were also other snippets, arguably more surprising.
A dead end at Aprilia?
When it comes to factory line-ups for 2023 and beyond, Aprilia felt the easiest to pin down following Aleix Espargaro's win at Termas – with both the factory and Espargaro and Maverick Vinales having theoretically in their interest to continue.
"From my point of view, everything was clear from the start. For me, our drivers are Aleix and Maverick for the next 10 years," Aprilia racing boss Massimo Rivola told The Race – and while the "10 years" part of that is dubious given that Espargaro will then be 42 years old, this confirmed the logical desire of the Noale factory to keep things as they are.
However, just because a team and rider would be happy to continue doesn't mean they're aligned on terms.
"I would like to stay with Aprilia, at the moment we are starting discussions – we are still a bit far, I expected something a little better from them for a long time, but it is not easy, and it is still early," Espargaro told MotoGP.com at COTA.
"Hopefully when we start European racing, if I'm able to show that I'm still fast, still capable of winning races and getting podiums, it will be easier."
It was part of a clear message from the Spaniard for Aprilia to increase their offer – and it seems a stretch to imagine Espargaro would be looking to take his services elsewhere in MotoGP (or in cycling, his long-term goal after the MotoGP) given he is only now beginning to reap the rewards of his journey with the RS-GP motorcycle.
However, it also seemed far-fetched that Andrea Dovizioso would be leaving Ducati amid their 2020 contract stalemate…
Zarco's Pramac case is tougher than you think
In 2020, on the heels of an excellent first Ducati season with Avintia, Johann Zarco was only too happy to throw his hat into the ring as a potential factory rider for the brand. Since then, the 31-year-old has more or less accepted that this is a very long shot given the insane supply of hungry young talent that Ducati has on its top-class roster.
"I want to perform, that's the first thing I want," Zarco told COTA. "For me, if I perform, I will have opportunities to continue with Ducati or maybe think about other teams or factories.
"Maybe there are more young artists for the factory team who can be interesting, but I think as long as I can fight for podiums at Pramac it might be good to continue with Ducati and Pramac, to continue to build something that we trust very well."
Zarco was capable at Ducati but his form took an erratic turn midway through last season and has yet to fully recover. Normally that wouldn't be a dealbreaker for a satellite rider, given his propensity for delivering the occasional stun in qualifying and chasing podiums, but Pramac's rides are bound to be incredibly hot.
Should Zarco teammate Jorge Martin get the nod for partner Francesco Bagnaia on the factory team in 2023, it would be natural for Ducati to arrange for Jack Miller to go the other way – something that Miller made it clear he would definitely consider. And there is also the question of keeping championship leader Enea Bastianini in the camp.
That would leave Zarco with a serious fight on his hands to keep Pramac in charge – but it's a fight with Pramac CEO Paolo Campinoti who seems very keen to help him.
"We are very satisfied with Johann," he told French channel Canal Plus COTA. "We are convinced that he could stay with us, and we are doing everything to ensure that he stays with us.
"We always make the decision with Ducati. We have some influence and we want Johann to stay with us. It depends if he wants to stay with us, but I think the relationship is very good. I hope he will stay.
Given that Zarco later blocked the interview and answered yes to Campinoti's question about whether he was staying, it's clear that Pramac's boss' rhetoric is no mere favor.
The new "shiny object" that is turning the heads of MotoGP teams
Rookie Moto3 champion Pedro Acosta has yet to quite deliver on his Moto2 pre-season promise – and while his campaign is set to recover and he's still a shoo-in for a future in MotoGP, for now, there is a new name that is generating buzz.
Enter Fermin Aldeguer, the reigning (super dominating) champion of the Spanish CEV Moto2 series who is now turning heads in the grand prix paddock.
CEV Moto2 isn't the most obvious pool of MotoGP talent, but Aldeguer has absolutely dominated the series in 2021 and is making a spectacular first impression as a full-time Moto2 world champion.
You wouldn't know it from his seven points in nine races, but he was robbed of a strong chance of victory at Termas due to a desperately unlucky collision with series leader Celestino Vietti, and has regularly popped up at the top of the timesheet. This had him racing a Boscoscuro (formerly Speed ​​Up) against series-standard Kalex bikes, and his accomplished teammate Romano Fenati was absolutely nowhere near close.
But the biggest driver of reported interest in Aldeguer is that he just turned 17. That means he won't be eligible for a MotoGP debut next year, but it looks like the premier class is already sizing him up for the following year.
"Two factories made us an offer and each satellite team contacted us," said Aldeguer manager – and former 125cc star – Hector Faubel in an interview with MotoGP.com.
"It's been crazy. Energy drinks, helmets, gloves, boots, leathers, everyone, all contacting me. They all want Fermin.